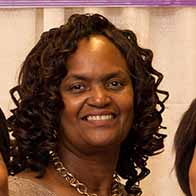 New Membership and Orientation Manager
Mrs. Lisa Ware has been married to George Ware for over twenty years. They have three biological children, three stepchildren and eight grandchildren. Lisa is a chartered member of Abundant Love Fellowship Church under the pasturage of Dr. Edward Ross and First Lady Shelia Ross. in Waco, Texas. Lisa retired from the Department of Veterans Affairs (VA) Doris Miller Medical Center with twenty-nine years of service. She has been a registered nurse for over thirty years with certifications in Medical, Surgical and General Medicine.
Lisa is experienced in acute medicine, long term care, community health, psychiatry, rehab, school of nursing and home healthcare. While serving at the VA in Waco, Texas, she worked in acute medicine, acute psychiatry, long term care and blind rehabilitation. Lisa is a member of Prosper Waco Women's Healthcare Steering Committee and serves on the Women's Health and Smart Babies early childhood initiative committees.
Lisa was the first nurse at the CTVHCS to become a member of (NOVA) Nurses Organizations of Veterans Affairs. Lisa is a chartered member of CHI ETA PHI, a professional nursing sorority which has chapters throughout the United States, District of Columbia and Africa. Lisa partners with Care Net, a pregnancy advocacy for the at-risk mothers; she is a partner of Hope with St. Jude Children's Research Hospital; she is a member of Imerman Angels serving as a mentor angel dedicated to providing personalized one on one cancer support. Lisa has been a speaker at the Scott and White Hillcrest McClinton Caner Center to those battling cancer and survivors at the support group.
Lisa was diagnosed with Colon Cancer in 2014. The doctors informed the family that she would not make it through the night and to say their goodbyes but through prayers, faith and a strong relationship with God, she beat all odds and survived. Her family and friends would not give up on her because they knew God has the final say and there is nothing impossible for God.