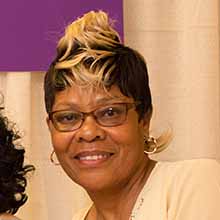 Finance Officer
Mrs. Toria Smith-Loughridge is a Nursing supervisor at the Doris Miller, Department of Veterans Affairs (VA) Medical Center in Waco, Texas, and she has over thirty years of experience as a healthcare professional. She is highly trained and experienced in offering assistance in caregiving to veterans with all types of diagnosis. Toria oversees campus employees and leads with an I Care mission attitude.
She is a representative for Nursing in the Medical Officer of the Day orientation as well as assisting students, trainees and support staff with clinical orientation. Toria is a licensed vocational (inactive) and registered nurse (active) in the State of Texas.
She is a graduate of Navarro Junior College (Nursing); a graduate of Bishop College (Pre-Med); a graduate of the University of Texas (Bachelor of Nursing); and a graduate of Phoenix (Master Science Nursing). Tori is a member of CHI ETA PHI Nursing Sorority and recently holds the position of treasurer.
In Toria's role as a nursing supervisor, she provides guidance and assistance to VA employees who are providing care to our veterans. Her professional communication skills and management techniques help to grow an organizational culture that prioritizes putting the veteran first. Toria also engages and interacts with the staff, veteran families, management, and her peers in a way that promotes a transparent continuum of care.
Toria is a member of King's Christian House of Prayer in Marlin, Texas under the guidance of Bishop King Moore. She is married to Solomon Loughridge. They have four daughters and five grandchildren and one great grandson. She is the third of three siblings and was born in Palestine, Texas. Toria says, "I am blessed and thankful to my Lord and Savior Jesus Christ who has healed me from breast cancer. I was diagnosed in 2014".