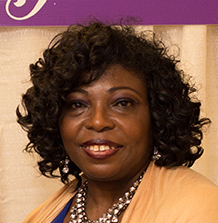 Historian
Ms. Sandra Montgomery has been a licensed registered staff nurse through the State of Texas for more than 31 years. She received her Associate Degree in Nursing from McLennan Community College. Currently she serves as an evening staff and charge nurse at the Department of Veterans Affairs (VA) Doris Miller Medical Center in Waco, Texas. Sandra serves as Clinical Adjunct/Substitute Instructor for second and third semester nursing students at McLennan Community College. She supervises 5-10 students during their medical surgical rotation at community hospitals.
Sandra is experienced in acute psychiatric nursing, ambulatory and urgent care, While serving at the VA, Sandra established the Inventory Movement Assessment tool to audit AIMS assessments in acute psychiatry. She established the detox order set for physicians and developed the Legionnaires Clinical Screenings tool for the VA in Waco and Temple. She also developed the missing patient notebook for SMILES. Sandra serves as a member of the nursing committee and was nominated for professional nurse of the year in 2004.
Sandra is a member of Nurses Organizations of Veterans Affairs (NOVA). She is also a member of Chi Eta Phi Sorority, Inc. implemented and presented "Pretty In Pink" Mother/Daughter Tea in Observance of Breast Cancer Awareness in 2014-2015. Sandra is a member of the Abundant Love Fellowship Church under the pastoral leadership of Dr. Edward L. Ross, Sr. Pastor in Waco, Texas. Sandra has three children and three grandchildren. She loves collecting and watching movies.